Recovery
---
At CDLL, we do our best to help people in our care achieve a sustained recovery and lead fulfilling, healthy, and productive lives. With proper support and a willingness to change, we believe that addiction can be overcome and lives can change for the better.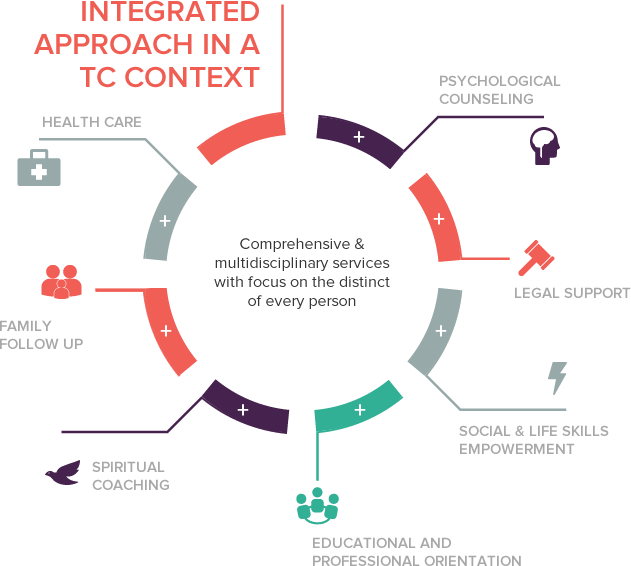 Health Care
Our team of qualified experts and consultants oversees the health of our beneficiaries throughout the program. We define, address, and teach individuals to handle their health problems including Hepatitis B and C, dental care, and other illnesses. A follow-up is conducted by a psychiatric doctor assigned by CDLL or by the beneficiary, in collaboration with the CDLL team. This begins with post-detox medical protocol and continues on if any co-morbidity treatment. Is needed. CDLL is well-known for being flexible in coping with various psychiatric approaches and has relationships and dealings with various hospitals and clinics in Lebanon.
Family Follow Up
This department works diligently in order to establish relationships with families built on trust and cooperation. Through individual follow-ups and family aid groups, and meetings joining the family and their child, we help to alleviate their immediate burdens and redefine their family value systems. We strengthen and rebuild family ties, and educate them about addiction and the role they can play in their children's future-- thus preparing a safer post-recovery environment for the former addict. At CDLL, we believe that recovery is a partnership. As such, we run a family mutual aid program in Lebanon for our beneficiaries' parents, as well as for the parents of addicts who are not yet enrolled in our programs: a place where struggling parents can gather and share experiences and learn more about our drug abuse program, as well as addiction and recovery. Family is an important pillar in the patient's recovery and central to the future of a healthier society.
Spiritual Coaching
At CDLL, we believe that spiritual healing is essential to each person's overall healing. Daily prayers, weekly mass, Bible study, teaching sessions and retreats are all part of the recovery journey. With the support and guidance of our priests and staff, and the inspiring testimony of their recovered peers, beneficiaries deepen their understanding of the Christian faith and build a personal relationship with Jesus Christ. The objective of the spiritual program is to heal deep personal wounds and to help a person's overall judgment. We provide spiritual advice so that they can hopefully make the right decisions in the future. We work with people regardless of their religion and spiritual views.
Educational and professional orientation
Beneficiaries avail themselves of educational opportunities including computer skills, management, personal finance and language training, how to write a CV and train for interviews. We also help them to land better and more appropriate jobs after the program. During the last phase of our program we offer paid job training for a period of 3 months, so that our beneficiaries can gradually become productive and independent members of society.
Social and life skills empowerment
Beneficiaries learn how to enjoy a drug-free life and gain life skills through a variety of activities such as music, sports and art therapy, as well as indoor and outdoor recreational activities. Social empowerment consists mainly of training sessions at various levels of communication skills and providing healthy recreational activities in order to replace time previously spent partaking in drugs. We also provide a wide array of services which include health education and awareness, as well as vocational workshops that include agriculture, maintenance, cooking, and farming--all skills that can be used in life and work situations afterwards.
Legal Support
Almost one-third of the recovering fellows have outstanding legal issues. The CDLL staff and legal consultants work with them in order to solve outstanding fines and to help them to resolve other legal issues. They are often accompanied by CDLL staff to court dates. In Lebanon, using drugs is a crime: families and addicts can however request to spend time in rehab instead of jail. We try to help the person be responsible and understand the extent of his action. We support him in clearing his legal issues in order to have a better chance at getting a job and a driver's license and integrating society in a "normalized" way.
Psychological Counseling
A psychological assessment is performed immediately after admitting new beneficiaries. Regular counseling sessions are maintained during the recovery process in order to help them to better understand what led to their addiction and to work on preventing a relapse. Individual counseling helps the beneficiary to accomplish his individual treatment plan, express his particular concerns, cope with his difficulties and adjust his recovery path.
RECOVERY OBJECTIVES
Abstinence from substance abuse, free from dependency
Changing negative behaviors
Leading a right, organized and productive way of living
WHAT IS TC?
In the TC or Therapeutic community based approach to treatment, drug abuse is viewed as disorder of the whole person. While the stated objective of TCs is to treat individual disorders, their larger purpose is to transform lifestyles and personal identities. Thus TC's use the community as a method to help individuals change themselves. Its structure (social organization), as well as its people (staff and residents), and its daily regimen of activities (groups, meetings, work, play) are designed to facilitate healing, learning and change in the individual. (Georges DeLeon)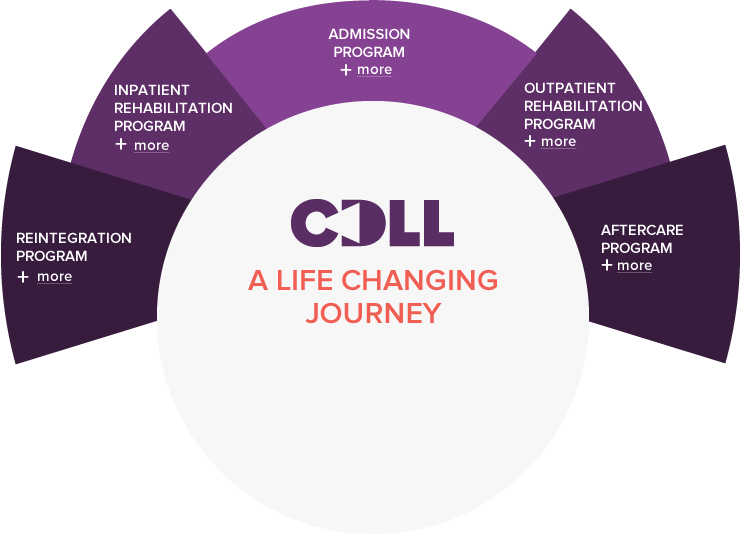 Reintegration Program
Once they have completed the inpatient rehabilitation phase and found a full-time job, beneficiaries are ready to resume life away from the center and start the reintegration program.
Duration: approximately 12 months
Process: meeting on a weekly basis with CDLL staff and peers for individual counseling and group therapy sessions.
Benefits: during a twelve-month period they learn to stay safe and overcome the challenges and pressures that they face. They start to build balanced and satisfying lives that meet their individual objectives. The program addresses all aspects of the beneficiary's new life, including work, family, friends and social bonds, sports, and an appreciation of art and culture.
Inpatient Rehabilitation Program
Set within the beautiful Jbeil mountains, the rehabilitation program helps beneficiaries to overcome addiction, while also teaching them how to build a brighter, drug-free future by leading productive lives and successfully integrating the wider community. Our approach is unique due to its faith-based component, which is interwoven throughout the program. We teach individuals that to have faith in God is life-affirming and that it builds inner strength and peace, as well as a strong life path.
Duration: approximately 11 months
Process: while following a daily regimen and benefitting from the combined support of a multidisciplinary team and their peers, beneficiaries work hard to change their lifestyles and behavioral patterns through: individual counseling, therapy sessions (individual and group), workshops, arts, sport, outdoor activities, prayer, and other services mentioned below. During the last three months of the program, beneficiaries receive renewed training, guidance, and support, this time in order to land full-time jobs that fit their career and life objectives.
Benefits: above and beyond curing drug addiction, the program teaches important new life skills and how to solve long-standing problems. Our graduates' newly-enhanced self-esteem and confidence helps them to form positive relationships and support networks, while strengthening and rebuilding family ties
Admission Program
This is the first meeting point where we get to know one another. The CDLL staff also works diligently to motivate beneficiaries by thoroughly explaining the rehab process and the different services offered, in order to help them make a full and hopefully permanent recovery.
Duration: 1 to 2 weeks
Process: through individual meetings, all new applicants are screened with regards to their medical, psychiatric, social, legal, and family histories. Based on each person's individual needs and objectives and their personal readiness, a shared decision is made as to whether inpatient or outpatient treatment is the most appropriate.
Detox: The intake process often includes a medically supervised detoxification period in a hospital psychiatric department, in order to reduce health risk factors.
Outpatient Rehabilitation Program
We also offer an outpatient treatment program over a 12-month period, followed by an aftercare period. While the person remains in his social environment – work, university, school – the objectives of this program are similar, i.e. full abstinence from drugs and alcohol, changing lifestyle and identity, and building a productive and fulfilling life. The program centers around the values and community context of a TC and works on the whole person in an integrated and multidisciplinary way.
Duration: 12 months
Process: meeting on a weekly basis with CDLL staff and peers for individual counseling and group therapy sessions, twice per week drug test monitoring, continuous family follow up, legal support and health care.
Benefits: the program aims to not only put an end to drug use but also to solve long-standing problems, manage psychological disorders and co-morbidities, conduct appropriate medical treatment, and resume normal family dynamics in order to carry on an organized and productive life.
Aftercare Program
After undergoing the 12 months of rehabilitation, each person undergoes a 12-month aftercare.
Duration: 12 months
Process: fully-recovered individuals gradually resume independent life, while continuing to receive any needed support on the part of CDLL: biweekly individual follow up, monthly group support, family follow up, legal support and health care.
Benefits: during a twelve-month period they learn to stay safe and overcome the challenges and pressures they face and start building balanced and satisfying lives that meet their individual objectives. The program addresses all aspects of the beneficiary's new life, including work, family, friends and social bonds, sports, art and culture.
OUR GRADUATES
---
We are proud to include all of our graduates as part of our growing family. They volunteer in ongoing CDLL activities and often act as the faces of recovery for new beneficiaries entering treatment.